I was selected by the PCC – Sylvania Campus Deans to attend:  The 33rd Annual, Pacific Northwest GREAT TEACHERS SEMINAR (June 17 – 21, 2011) (http://www.umpqua.edu/great-teaching-seminar)
I'd never heard of this event and had no idea what to expect, but I was honored to be selected. Then anxiety stuck. There was a homework assignment, which included two write ups and a BOOK! A book! One of the things I'm always harping on, is how little I actually read (leisure or professional)  & when I do read it is NEVER teaching related.
I found a book that looked very interesting and could have a positive impact on my online courses. I got it ordered and began reading. In the heat of finals week (heat as in stress & not heat as in temp – this is Oregon!), I got my two write-ups done (one on a teaching innovation and one on a teaching problem/challenge) &  finished a good portion of the book.
To add to the stress, I'd be spending a week with teachers, highly educated & highly intelligent teachers from a variety of disciplines. Would I be able to hold a conversation with any  them and not sound…. silly?
When I got to the retreat site, it was pretty impressive. Very green, peaceful, certainly away from the world….. (kinda, Wi-Fi!) I was greeted by Phil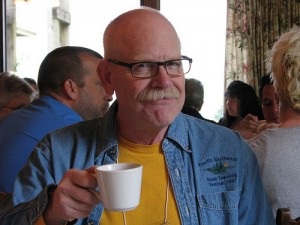 and given the opening instructions, which included go up stairs and select a room. I got my welcome package and headed up stairs. I found a room, put my name on the sign up sheet and went inside…..
Bunk beds!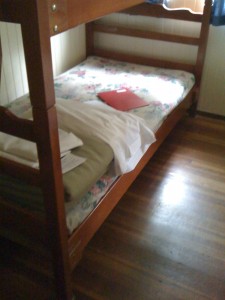 It dawned on, Teachers' Summer Camp! There was some immediate apprehension. "What have I gotten myself into?" Thankfully, the apprehension didn't last long.
The first thing we do at  Teachers' Summer Camp, start to get to know the other campers. So we had to go around talking to people and getting a single fact about them. I managed to get 27 names out of the 40 or so people. Rather impressive. Later on, we introduced ourselves and the other people told what they'd learned about the person.
When Dinner rolled around, we learned each person takes two meals where they take care of table. Getting drinks, refilling food dishes etc. I snagged Monday Breakfast and Lunch. Got it out of the way up front.
Plenty of people have asked, what did you do for a week?
Well we broke up in to groups and shared our homework assignments, innovations and problems. That was good times, getting to interact with other teachers and find out how they keep students engaged across a various subject matters.
We had large group sessions that covered a variety of topics:
Dress code of teachers
Use of laptops, cell phones and other devices in the classroom
Allowing Extra Credit
Allowing Late work
We shared our books. I found several books I wanted to read. I said wanted to, we'll see if it happens.
Overall, there was a lot of sharing, bits and pieces of things designed to help make the job of teaching easier. There were presentations of various ideas & technologies. And lets not forget, Arts and Crafts.
What would summer camp be without arts and crafts? Each attendee created a page for a Zine. That'll be pretty cool to see once its assembled.
We got plenty of free time, allowed for NAPS! And getting out to explore. People walked around the property and went out into the gorge on various hikes. Which is good, because all of that sharing can get tiresome.
One of the most interesting things about the Seminar, PCC sent 2 instructors from each campus. I got to interact with people that work for the same organization, that I would have little chance of encountering during the academic year! Not only did I get to see how various colleges do things, but I got to see how various campuses and depts within PCC do things.
I had a great time & left with plenty of things to reflect on.
Thanks to the Staff that kept the rowdy lot of teachers in line.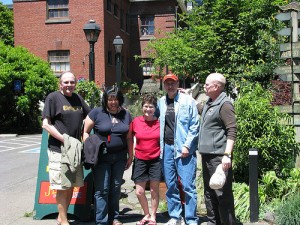 [A special shout-out to my Spades Partner Ricci and our opponents Jeff and Cole. That was good tymes!

]