Can't say I've been idle, just to busy to put my thoughts on "paper"
Work - same, same – realistically I don't seem to have more students than the previous terms. Development wasn't any more that usual, but I just couldn't seem to get my hands around things and keep them under control. Got a TA which helped lighten the load some. But I'm still failing uncontrollably. I got all of my development finished last week. So the focus has shifted entirely to grading. That's a good thing, I guess.
I was selected to attend a Great Teacher retreat! It sounds like a good tyme, however…. There's homework! Just what I needed! And of course one of those is recommending a book, cause I read THAT much.
I tracked down a book that looked it would interesting enough to command my attention.
The book: The Online Learning idea Book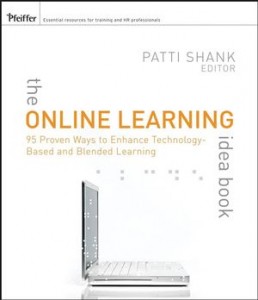 Very interesting book, it's a collection of ideas on how to improve online learning. I've read the first few entries, all provided by a variety of instructions/educations. My mind begins to stir almost immediately with how I could incorporate the first few things I read. It'll motivate me to finish the book.
Home life – silly! So We got a Fujitsu Split Pump. It was GREAT when we first got it installed. And THEN, it stopped working. Called the installer, he came out, &  "fixed" it. And guess what, months later. It was broken again. And this time, I couldn't get the installer on the phone. Ultimately had to call someone else out to do the work.
As I was waiting for the diagnosis appointment the wife found birds in the attic! Before I could the split pump appointment I had to have the birds removed. $$$$. Then the diag appointment $$$ – a leak. Scheduled the appointment to find the leak $$$$ . They found the leak and now I'm waiting for a new part so the leak can be fixed $$$$. Lots of $$$$ going out!
June will be just as crazy as the rest of the term. PCC's Graduation, The retreat and me starting school.
Gaming - this could be a page long entry all by itself!
I've taken over as Cipher Studio's Volunteer program. So I'm helping people promote Anima Tactics & Hell Dorado. That's keeping me fairly occupied. But I'm still making it to the painting table.
The gaming list has changed, some.
I came into a 40k Blood Angel Army & a GW Fantasy Army. In order to get my Blood Angel army assembled, I picked up Dystopian Wars (don't ask….) So those game are now in my New Game category.
I recently got in a game of WM Trolls! That was unexpected.
My gaming list:
Personal Favorite:
Freebooter's Fate (Pirates & Brotherhood & Goblins)
Active/Current Games:
Malifaux (Dreamer, Vics, Nico, McM, Von Schill)
Anima Tactics (Azur Alliance, Empire, Samael, Black Sun)
Hell Dorado (Immortals & Saracens)
New Games (Played 0 – 5 times):
40k (1) – (Blood Angels)
Warhammer Fantasy (0) – (Dark Elves)
Dystopian Wars (0)  – (Blazing Sun)
Played games (6 or More):
WarMachine (Khador)
AE-WWII (Germans & Russians)
Firestorm Armada (Sorylian & Terran)
Warhammer Invasion (All)
Hordes (Trolls)
Not-Active/Limbo:
Warlord Card Game
Warlord Miniatures game
Legends of the Old West
I'm just trying to play and keep all the rules straight!