The website really doesn't do justice to the furniture they produce.
I'd talked the wife in considering the furniture before GenCon. At GenCon I got a good look at the furniture and figured we'd go for it. I was waiting to pull the trigger when I got an email from the company saying the were going to PAX West and lead times would probably jump from 6 to 8 months.
So I pulled the trigger. I had clearance for a coffee table and dinning room table. This furniture is….. custom. Down to most every detail. Back before PAX i put in the initial order and got in line. Then I got an email saying I could jump into the production Queue 3 month early! Hell yeah!
Geek Chic had several orders in the queue headed to California and dropping off my ish in Oregon was along the way worked out to my advantage.
So I confirmed the details of the two tables, Hoplite (coffee tabe) & Vangaurd (dinning room table) – PAID. And it was off. I get updates and pics as my tables move through the process.
To make our furniture, it goes through this process:

1) Your raw lumber is taken from rough stock and is planed, milled and shaped into the pieces that will become your Hoplite and Vanguard.
2) Once all the pieces of your table are shaped and cut to the correct dimensions, your furniture's parts get in line to be assembled.
3) Your furniture is assembled.
4) Once it is assembled, it moves on to finishing where it is sanded silky smooth and sealed in 3 to 4 layers of conversion varnish.
5) Your furniture is then fully assembled and Quality Assurance checks are implemented.
6) Upon passing Q.A. inspections, your furniture is then packaged for delivery.
Here are some pics of the types of tables: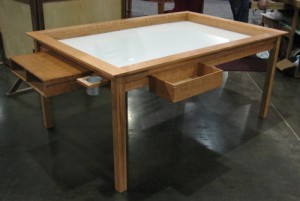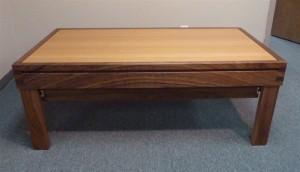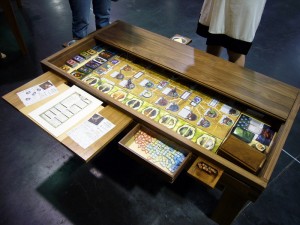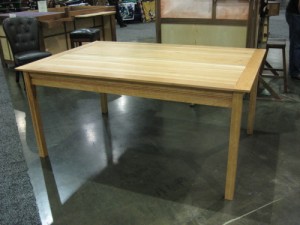 I added three accessories to my order: Cup holders, counter tray & the bin. Pics are on the last pic. The accessories for one fit both tables.