And I'm ok with that!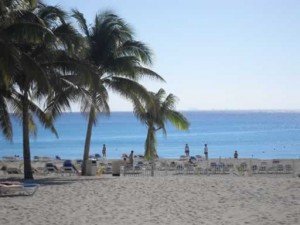 Vacation spot – Hotel Riu Palace Riviera Maya Playa del Carmen, Mexico (All Inclusive resort)
Booked via The best damn Travel Agent!: Beth Pederson @ Pederson Consulting
809 NW 143rd Street
Vancouver WA 98685
Phone 360-546-2679 Fax 503-235-2338
Day 1 – Saturday – December 18th
Travel day – Nothing special about the travel day, other than Oregon reminding us why we were escaping. The weather on the ride to the airport at 4am was chunky rain (weather forecaster's words, NOT mine) It was windy and as close to snow as you could get with out it being snow. But we got out of town on time & no one groped me at the airport.
We discovered the hotel was not in Cancun but about an hour and a half away. Not a horrible journey, but after flying all day we really wanted to get the hotel and start relaxing. We got checked in and got to our room. We did a little checking and figured out dinner, the buffet.
We arrived at the buffet as it was opening, something we planned to avoid for the rest of our stay. A mad dash for food and we were in the center of it. After dinner we had our first drink of the trip and headed to bed. In the morning we'd have to meet our tour agent and plan out some of our vacation stay.
Day 2 – Sunday – December 19th
First full day – Breakfast was also buffet style. So we hit up breakfast, just as busy as dinner. We headed up to meet the tour agent. We took care of transportation for the return trip, it'd be another early flight. Me and Cyn decided to try a tour this vacation. Something we don't usually do. Cyn was interested in the Pirate ship event so we booked it for Tuesday.
We scheduled couple massages on the beach for Wednesday.
Then we headed to book for dinner. We were playing cards as people were starting to form the line and we figured….. We're on vacation, no hurry we'll be fine. HA! If we only knew. We finished our game and jumped in line. As we waited, we watched the few appointments for Sunday night disappear and options for Monday night got slimmer. When we FINALLY got up to reservation person, first asked if there was ANYTHING for Sunday night and he found a reservation for us, it was 8:45pm but it was better than the Buffet. We got something scheduled for Monday night as well.
We were going to be at the pirate show on Tuesday so we'd have to schedule something for Wednesday on Monday when the next day opened up. You could only book two days in advance. So on Monday, Wednesday's schedule would open. Very odd.
Sunday was pretty kicked back after that, Cyn hit the pool, scouted the beach. I just relaxed and read. Took a nap and then headed to one of the bars.
Dinner at 8:45…. Dinner was good, but 8:45 was a tad to late. We ordered room service in the early evening to hold us over until dinner. Room Service menu was kinda weak, but it worked.
After dinner, more drinking.
Day 3 – Monday – December 20th
We've developed our routine, get up whenever, have breakfast, sit out by the pool and just relax. Then day starts from there. Only thing on the schedule for day 3, dinner @ 8:45 and make reservations for Wednesday Night's Dinner. We were ready this time around, we got in the general area of where the reservations were taken and jumped into line as soon as the person arrived. Still took a while to make the reservations on Wednesday night for 6:30.
More napping and chilling. The water in the pool is kinda cool, so if you're going to hit the pool you have to time it for 11am until around 2ish. The sun is hot and keeps the pool temp warmer.
Another great dinner & more drinking (seeing a theme)
Day 4 – Tuesday – December 21st
The pirate show! It was an hour and 20 minute ride to the show from the hotel. I didn't really know what to expect. We got our tickets and stood around until it was time to board. There were two ships, a green ship and red ship. We boarded the green ship, took the welcome aboard pictures.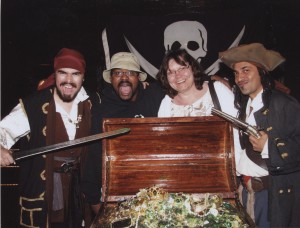 We got under way, it was a pirate cruise! I'd missed that little detail. The entertainment began after the safety talk. Oh and the drinking! Open bar. A pirate crewman selected us to be on the receiving end of his fine service. We never had an empty hand.
As we get underway I'm selected for a game. Yeah! Or so I thought – A beer drinking contest. There were four of us, and I was representing the USA. Ut-oh. You had to spin around your chair 5 times, race across the deck, use a straw to suck down your beer and then race back. The significant others of the contestants were given a chance to cheer us on. Cyn did her best, knowing I was gonna get stomped!
And so I did, you'll notice in this picture. I still have the beer and the straw at the end of the contest.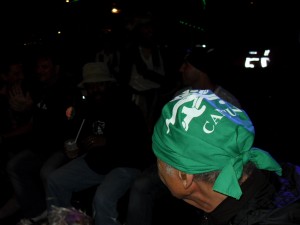 The next contest was for the women, they had to collect shoes from the passengers. This was pretty funny. We were cheering the USA contestant, Cyn managed to get both of her shoes to the USA contestant. I pulled off my first shoe and the Swedish young lady got it. I went to give my second shoe to the USA contestant, and the Swedish young lady got that one two.
The jist of the conversation with Cyn:
"Honey, I tried to give the shoe to USA," Me
"Yeah and the cute Swedish chick was blocking your view,"
Silence……
Then we ate! Great, steak and lobster. The theme continues.
We returned to the deck after dinner for more entertainment. It was a beautiful night full moon & clear skies, we thought it was going to be chilly, and it was until we started drinking and getting rowdy. Then we pulled up next to the red ship and the real show began. It was great! The crew from the green ship boarded the red ship and vice versa. They did sword fights on each ship. We carried green flags waving them and cheering for our crew. In the end we won, getting back the Green Capt's sword (later found out, the red ship won getting back their Capt's treasure)
Then we just danced and drank. The DJ played house/dance music for the rest of the trip. What a blast! Highlight of the trip for sure. The entire tour was about 3 hours.
Day 5 – Wednesday – December 22nd
Now in full stride, I realize the specialty drinks at the resort bars are kinda weak. So I order up an extra shot with each drink, but that helps! Plenty of naps, good eating and even walks along the beach. Cyn is getting her sun and pool time.
Massage on the beach, excellent! Not much else you can say about that.
By this time, we'd discovered a drink at the pool bar called a Superman. A red, white and blue layered drink. Well…. I asked for the extra shot of Rum in my superman, turning it into a Super-Superman. That started a trend of having a Super-Superman as my mid-day drink. Several of the bar tenders figured out that's what I was going to order every time I appeared at the bar.
Day 6 – Thursday – December 23rd
Vacation continues.
Day 7 – Friday – December 24th
We had to have reserved seating for dinner buffet. It was a quite an impressive spread. Very nice setup.
Day 8 – Saturday – December 25th
Up early and off the airport. The trip was standard – long! And as expected Portland Weather welcomed us home with Grey skies and rain!
Over the course of the week, we made several trips out and about to see what local shopping was like. On Friday, we walked down the beach to the shopping area and back. That as plenty of exercise and fresh air.
Vacation Overall – This isn't a resort we'd return to. Also, we'd stay away from any of the other resorts in the RIU family. Service as a whole wasn't good. Maid Service was hit and miss. Several occasions required multiple calls to the front desk. From the moment we arrived, we didn't get the WOW feeling like we did at the other resorts, Majestic Elegance – Punta Cana, Dominican Republic (July 2009) & – Dreams Resort – Puerto Vallarta, Mexico(June 2007)
The restaurants were managed to get into had great food. However it took, waaaaay to much effort to get into dinner. Waiting in a long line to make dinner reservations two days in advance and having only two time slots for dinner was very disappointing.
We will consider adult only resorts in the future. There were a lot of large groups including tons of kids. In some cases, that just didn't lend to a calm relaxing time.
Given all of that – We had a great time! Hard to beat sunshine and warm weather. The food was very good and the liquor was free flowing. There were plenty of friendly faces and excellent individual effort on the part of the staff.